This week some of the most interesting and influential commercial leaders in Finland, the S-Bank (3 million customers in Finland, over 50% of population) arrived to Hangzhou to meet with the most important tech influencers in the "Palo Alto of China". 

Mingle Advisors team was happy to plan, contact and arrange a fruitful and resultful visit for our honorable guests. We arranged meetings with some of China's leading in e-commerce and mobile payment experts, such as Alibaba, HeMa and more.
We were proud to cooperate with one of the most impressive and appreciated China scholars and strategy experts, professor Matti Nojonen.

S-Bank is part of the Finnish retail giant S-Group (with 46% market share in Finnish food and grocery retail), and more and more focusing on the digitalization of food and product retail. S-Group interest and aim is to enhance their customer impact and to be able to develop state-of-the-art platforms for their local and global businesses in the future. For that purpose Hangzhou is probably the most optimal and fruitful place to learn from. Hangzhou also gives a chance to meet some of the most important tech, ecommerce, and Internet organizations in the world.
World-class technology insights, eye-inspiring cultural views
Visiting Hangzhou Future Tech City and especially the Alibaba Headquarters and its talents was the highlight of S-Bank's visit. We also had the change to take our guests to an authentic tour on some cultural heritage attractions, such as the world renowned Longjing tea fields and see the beauty of the West Lake.
Here are some highlights of the visit: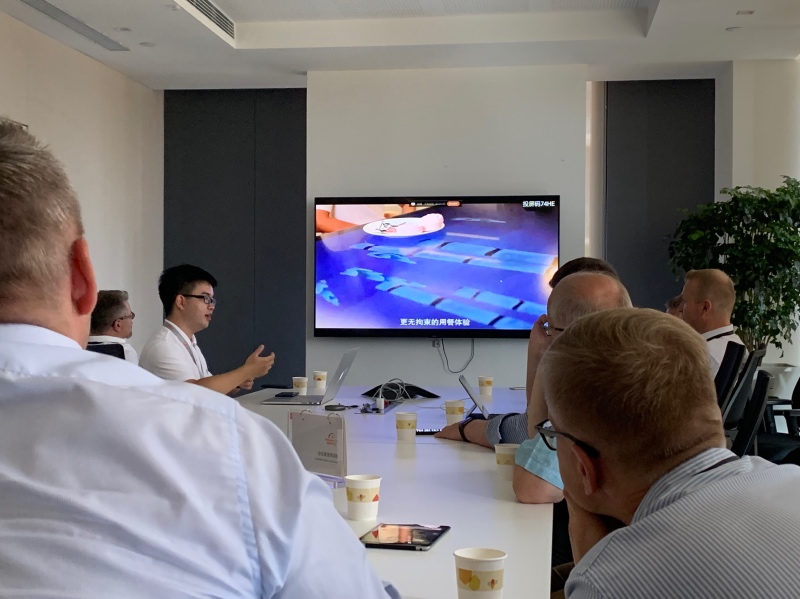 Monday afternoon was full of inspired discussions and insights and introduction of Alibaba-based mobile commerce and investment platform, Ant Financial. Ant Financial developer Edison Zhang has also studied in Finland. He is familiar both with the Chinese and Finnish ecommerce ecosystems. 
The retail influencers also met with Matthew, head of Alibaba's GET Program. The GET Program was established to collaborate with more than 400 universities and training institutions in China and world wide to train entrepreneurial talents for the digital economy. This means inspiring and empowering youth and entrepreneurs and enabling young digital talents. We had a fruitful discussion about the future of mobile payment and commerce strategies in China, Europe and the United States.
If you're interested about the program and wish to cooperate with Alibaba, feel free to connect us anytime, we're happy to help you forward.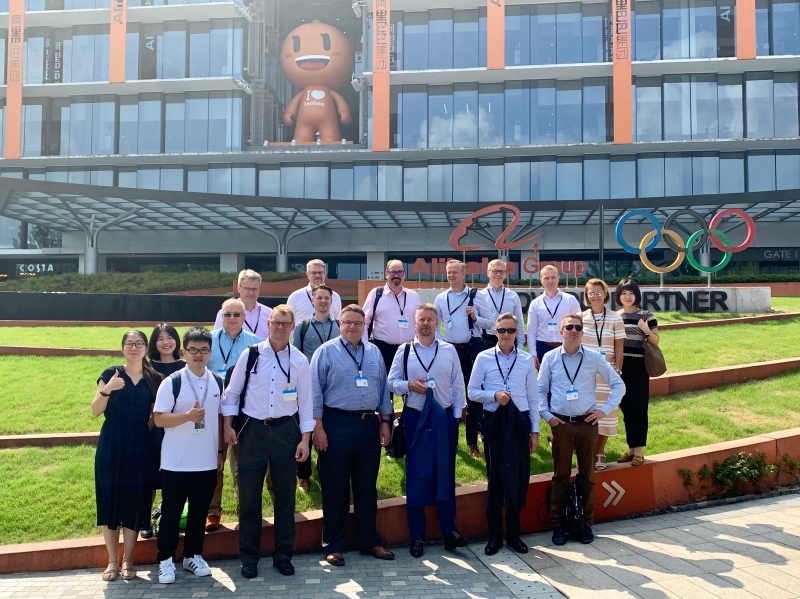 Dragon Well Tea fields and international entrepreneurship
We explored also the rich cultural heritage of Hangzhou. The famous tea fields gave us a fresh taste to the hand-selected world renowned Hangzhou Dragon Well (Long Jing) Tea. We explored how traditional businesses such as tea farmers have successfully utilized newest digital payment methods to develop their business in China.
In order to understand how the retail business works, we took our guests to the "Fresh Hippo" (Hema) store, which have become the state-of-the-art on smart food retail. This is the best way to introduce our customers how the digitalization is altering the tools of food retail in China in everyday customers' life.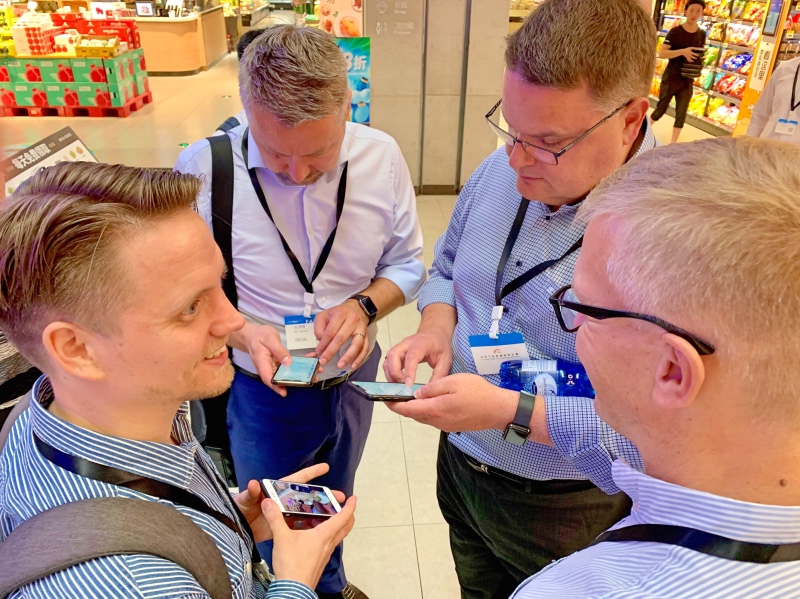 The meetings continued with Dr. Deepen Sah, who has over 10 years experience in Chinese Fintech, academia and entrepreneurship. Together with Lauri he is also one of the Hangzhou International Startup Club's Founders.
Dr. Deepen has a Ph. D on Management science and engineering at Zhejiang University.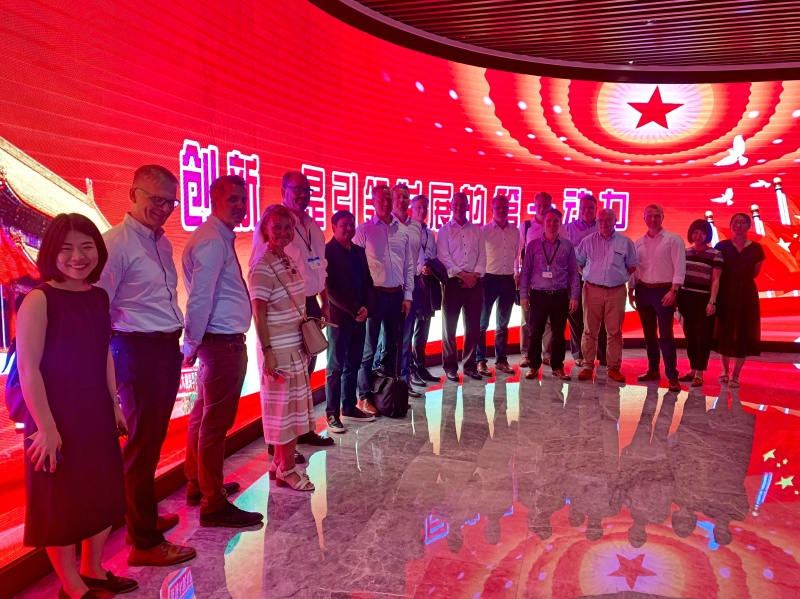 We are happy to be surrounded by excellent Finnish and global influencers, who are making a difference for our future generations. We are also happy to have a strong and talented team to prepare, arrange and find the right contacts and knowledge to create a unique experience in China. We always aim on finding the most suitable organizations, let it be company or local government leaders, and get the practicalities in order.
Warmest thanks to our unique, inspiring and clever S-Bank and S Group guests. Discussing with you about the future of Finland, China and the world, of how to lead an organization, of how to cultivate yourself, of how to serve over half of the people in your country, and make bold and brave strategic moves, really made our day. The good thing in serving others is that usually the road always goes to two sides: it's not only us introducing China, it's our visitors introducing the whole world to us. 
Our team warmly and humbly thanks for the privilege. 
About Mingle Advisors:
Mingle means bringing people together. In China, Finland and beyond. Mingle comes from  Chinese words "Meng – Lu" , Meng for Dream, Lu for Road. For all those with a dream on understanding China better, or getting a tech, corporate, education or public project forward, we are here to help you. We believe the Great Wall is not as high as many say. The Silk Road cooperation can benefit us all. We just need to keep our hearts warm and open, and our heads cool. In China everything is difficult, and everything is possible. Connecting the innovation, government and culture sides, there's no limit what a person can achieve in China. Jack Ma and Mark Zuckerberg know that, so did the pioneers of connecting China and Europe, Marco Polo and Matteo Ricci and several others before. Our goal is to make it faster, easier, smoother for you to cope with – and if the bad times come, stay there with you and hold your hand, if necessary. 
Contact us here below, email, facebook or wechat anytime. We are happy to hear your story and help to take you forward in China.